Heinrich Dörfelt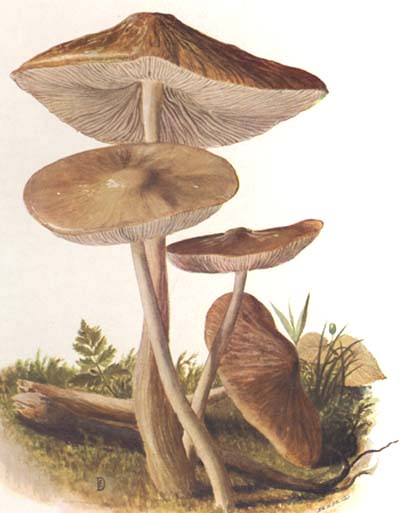 Back to Author Index
Biography
Selected publications
Species
Biography
Dörfelt is a German (formerly East German) mycologist who has done a lot of work on the genus Xerula. He has also co-written an excellent reference book on the history of mycology.


Selected Publications
Heinrich Dörfelt (1974) "Zur Frage der Beziehungen zwischen Mykocoenosen und Phytocoenosen" (On the question of the relationships between ethnomycology and ethnobotany) in Archiv für Naturschutz und Landschaftsforschung (Archives for Conservation and Land Management) 14 pp. 225 - 228

Heinrich Dörfelt (1979 - 1986) "Taxonomische Studien in der Gattung Xerula" (Taxonomic Studies in the Genus Xerula) in Feddes Repertorium

Heinrich Dörfelt (1979) "Zur pilzfloristischen Durchforschung des Vogtlandes Sächsische Heimatblätter" (An investigation of the mushroom flora of Vogtland) in Sächsische Heimatblätter (The Native Newspaper of Saxony) 2 pp. 91 - 95

Heinrich Dörfelt & W. Berg (1981) "Historische Erdstern-Abbildung (Geastrum, Astraeus)" (Historical earthstar images) in Leopoldina Mitteilungen der Deutschen Akademie der Naturforscher (Reports of the German Academy of Naturalists) 3:27 pp. 161 - 197
this actually appeared in 1983

Heinrich Dörfelt (1989) Erdsterne: Geastraceae u. Astraceae (Earthstars: Geastraceae and Astraceae) 2nd ed.

Heinrich Dörfelt & Heike Heklau (1998) Die Geschichte der Mykologie (The Story of Mycology)
I think that there is a cultural gap between me as an American, and the people who designed this book. To my mind, it falls in between two stools: I keep expecting it to either provide its information in greater depth, or show me more pretty pictures. As it is, it's sort of an unholy mixture of coffee-table book and textbook. On the one hand, it seems to be directed at a reader who will be excited to know that fungi were mentioned once in a 16th century Herbal (hoo boy!), and will be thrilled to see the grossly inaccurate wood-cut that the herbal provides to illustrate it. And on the other hand, it's directed at a reader who will be interested in a complete bibliographic listing, covering several pages of the text, (not an appendix, mind you; those are even more stunning) of major monographs of genera published in the 20th century.
But while I can't imagine who could read it through without great frustration (and it does seem to be intended for people to read through), it's a wonderful and carefully done reference work. I have used its bibliographies and short biographies of mycologists to great effect in this website.
Back to top
Species
Xerula radicata (Rehlan: Fries) Dörfelt

Back to top