Welcome to the Great Lakes nexus page of Mushroom, the Journal of Wild Mushrooming.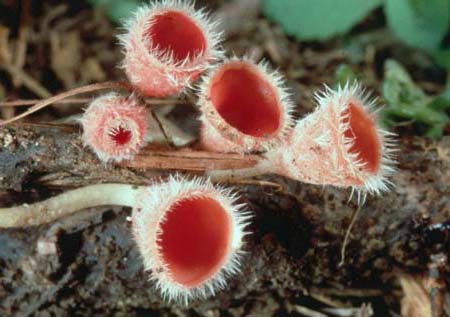 Microstoma floccosa, photographed by Eleanor Yarrow
This site features
the Top Ten questions people ask us about fungi
our database of historical biographies of mycologists
Each page has a navigation bar of icons at the bottom. There is a navigation icon for each of the areas just mentioned, and in the center is an icon of Microstoma floccosa, the furry red cup fungus pictured above. Clicking on this will always take you back to this page.
You can also reach the identification pages for Mid-Western gilled mushrooms or polypores by looking up the mushrooms name. We have three indexes of fungal names:

All these features are interlinked: a technical term on any page will be colored Steel Blue and clicking on it will take you to a page that explains the term. Any mention of a myco-person will be in this color and will take you to a page with information about that person. And likewise, any mention of a gilled mushroom or polypore that's in our database of fungi from the Great Lakes area will take you to a page describing that mushroom. We hope you enjoy the site and find it informative!

Comments? Suggestions? Send them to the webmaster