Lee Oras Overholts (1890 - 1946)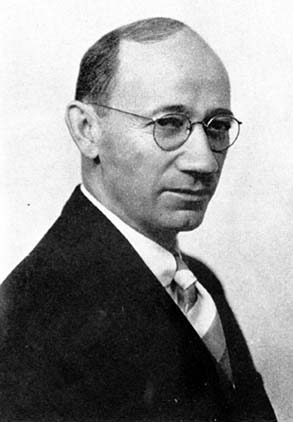 Back to Author Index
Biography
Selected publications
Biography
The first American expert on the polypores. He got very taxonomically conservative: by the time you get to his 1953 work, he mostly sticks everything into the huge genus Polyporus. His species, however, are very carefully done, with lots of type studies.


Selected Publications
Lee Oras Overholts (1914) "The Polyporaceae of Ohio" in Annals of the Missouri Botanical Garden 1:1 pp. 81 - 155

William Alphonso Murrill, Calvin Henry Kauffman & Lee Oras Overholts (1914 - 1932) "Agaricaceae: Part 2" in North American Flora 10 pp. 1 - 348
Remaining white-spored Agaricaceae, plus pink and brown-spored genera, with Inocybe and Cortinarius by Kauffman and Pholiota and Hypodendron by Overholts.
I can't find Hypodendron in The Dictionary of the Fungi, but it does say that Singer synonymized Hypodendrum with Pholiota, so these two taxa are probably the same thing, since Earle was Murrill's predecessor at the NY Botanical Gardens.
And of course it might just be a typo in The Dictionary...

Lee Oras Overholts (1915) "The Polyporaceae of the Middle-Western United States" in Washington University Studies 3rd series, 1:1 pp. 1 - 98

Lee Oras Overholts (1918) "The species of Poria described by Peck" in Bulletin of the 205 pp. 67 - 166

Lee Oras Overholts (1922) "Diagnoses of American Porias: 1." in Mycologia 14:1 pp. 1 - 11

Lee Oras Overholts (1923) "Diagnoses of American Porias: 2." in Bulletin of the Torrey Botanical Club 50:7 pp. 245 - 253

Lee Oras Overholts (1923) "The species of Poria described by Schweinitz" in Mycologia 15:5 pp. 207 - 232

Lee Oras Overholts (1927) "Species of Cercospora on Smilax in the United States" in Annals of the Missouri Botanical Garden 14:4 pp. 425 - 432

Lee Oras Overholts (1927) "A monograph of the genus Pholiota in the United States" in Annals of the Missouri Botanical Garden 14:2 pp. 87 - 210

Lee Oras Overholts (1931) "Diagnoses of American Porias: 3. Some additional brown species with a key to the common brown species of the United States and Canada" in Mycologia 23:2 pp. 117 - 129

Lee Oras Overholts & Josiah Lincoln Lowe (1953) Polyporaceae of the United States, Alaska, and Canada
Overholts is usually listed as sole author of the book, but Lowe finished it up after Overholts died
Back to top