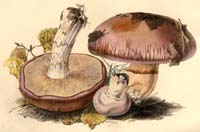 Key to Gilled Mushrooms Key
This is a key to gilled mushrooms, that is, mushrooms having a definite cap with a fertile surface consisting of gills. The fruiting body usually also has a stem, although that may be lateral or absent (usually, then, the mushroom is growing from wood). You can use this key to identify mushrooms that you find.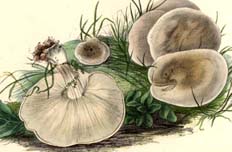 Agaricales Order
Fruiting body containing fibers (usually in the stalk)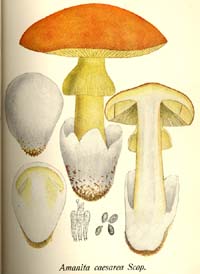 Amanita Genus
Fruiting body having a combination of some of the following characteristics:
Stalk growing out of a cup of cottony tissue called a volva (all white-spored mushrooms with a volva go here)
Cap with scattered patches or flakes of the same sort of tissue as the volva (see second picture), easily peeled off
Annulus (skirt-like ring on stalk)
Amidella Section
Diagnosis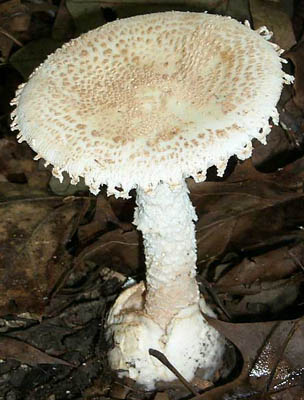 Stalk flaky at first - - that's why there's no annulus: it's all just a big mass of flakes. You can vaguely see where the annulus belongs here, though

Oh, yeah! And often with an appendiculate margin!
Microscropic Characters
Comments
The members of this section can be told apart from the Vaginatae in the field by not being as gracile or conspicuously striate. The more conclusive criterion is whether or not the spores are amyloid
The pictured mushroom is a local species, probably undescribed.The working assumption, for the moment, is that these are different ages of the same mushroom.


Narrow down your identification:
Amanita peckiana
Entire fruiting body white, except for
Universal veil material, which is pale pink
Amanita pseudovolvata
Cap up to 2" across, often with brown fibrils
Volva small, thick
Amanita volvata
Cap usually more than 3" across; white, sometimes aging or bruising brownish
Universal veil material white
Amanita whetstoneae
Larger and more gracile than the other species in this section
Cap dark brown