Monthly Meetings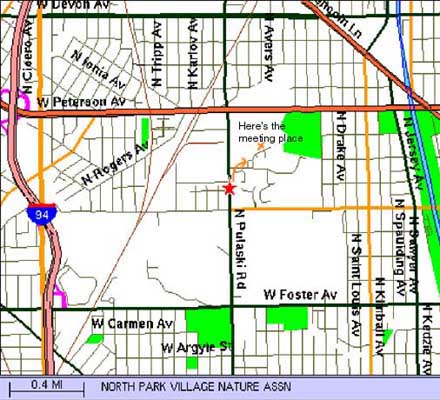 Monthly meetings are held the first Monday (except Labor Day) of every month except January, February, and July. Our speakers are only scheduled through April at the moment, but the rest of the year should be up soon. Unless there's some special notice in the description of the meeting, we meet in the North Park Village Nature Center.
People generally start arriving at the nature center around 7pm. People bring in mushrooms to be identified (or just to show off), and socialize. The meeting is called to order at 7:30
The North Park Village Nature Center is located just off the Edens Expressway (I-94). Exit at Peterson and travel east to Pulaski. Go a long half-block south on Pulaski to reach the North Park Village complex which will be on the east side of the street. Once you have entered the complex, go all the way to the back (this is a fairly extensive complex of buildings, with the Nature Center way in the interior of the block) to reach the Nature Center. That's a left at the second stop sign, and follow the road around past the front of that building and around the side of it, and keep going into the interior. Parking is free, across the driveway from the nature center, which has a miniature demonstration prairie growing in front of it.